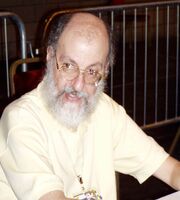 Harry Norman Turtledove (born June 14, 1949), is an American historian and prolific novelist who has written historical fiction, fantasy, and science fiction works. He is probably the best-known and most popular author of the genre of alternate history.
Turtledove's humorous short piece "Father of the Groom", was published in The Mad Scientist's Guide to World Domination (Tor, 2013), and reprinted in We Install and Other Stories (Open Road Media, 2015). It is a satire of the mad scientist genre in general, and features an appearance by a version of the stock character Igor in a POV role.
Turtledove's "Shtetl Days" (2011), can be read one Tor's website. It is set in an alternate history version of Germany, and features an appearance by the 1931 Frankenstein film as the source of an epiphany for the main character in his outlook on life.